vRealize Suite IAAS.

vCAC 6.0 – Architecture vCloud Automation Center 6.0 is definitely step forward, big step forward on way of including vCloud Director functionality into vCAC and vCenter server. There are also differences in architecture, installation and deployments. In version 5.2 all components need to be installed on Windows servers whereas deployment of vCAC 6.0 is compound of deployment of 2 x Virtual Appliances and at least one Windows server.
vCloud Automation Center helps to mange, provision and take care of full life-cycle virtual machine. using vCAC one can provision and manage VM's on various private and public cloud providers 
VMware VMware vCloud Director 
vCloud Hybrid Service (vCHS)
Amazon Web Services
Elastic Cloud Computing (EC2)
Elastic IP Elastic Load Balancer Elastic Block Storage
Virtual Private Cloud (VPC)
OpenStack RHEV 3.1
vCloudAC 6.0:
Microsoft SCCM Microsoft SCVMM
NetApp FlexClone OnTap
BMC BladeLogic Operations
Manager HP Software Server
Automation Citrix Provisioning
Server Red Hat Linux Kickstart
WindowsWinPE/WIM Imaging
SUSE AutoYaST PXE Boot –
Overview of vRealize Suite
What is vRealize Automation Suite?
VMware vRealize Suite is a cloud management platform purpose-built for the hybrid cloud. It provides a comprehensive management stack for IT services on vSphere and other hypervisors, physical inf
vRealize Orchestrator
vRealize Infrastructure As A Service.
What is Infrastructure As A Service(IAAS)?
IAAS:nfrastructure as a Service (IaaS) is a form of cloud computing that provides virtualized computing resources over the Internet. IaaS is one of three main categories of cloud computing services, as service).
vRealize Automation 6.X Tenant Management and Machine Blueprints
VRA IAAS
Implementation and Installation Guide 
 I. vRA-IAAS- Install on Window 2012 
II. vRealize Automation 6.2.
A. vRealize Automation 6.1 (formally vCAC) – IaaS Install
IaaS is the component that allows the creation of blueprints and provisioning to endpoints. It also handles machine life cycle, governance, and decommissioning to name a few. IaaS also has some muscle behind it in regards to extensibility. Before getting too far in this discussion, let's go through the IaaS installation process.
vCAC Overview intro
IaaS Server Requirements
Windows Server 2012 R2
Microsoft .NET Framework 4.5.1
PowerShell version 2.0 or 3.0
Microsoft IIS 7.5
Java (64-bit) 1.7 or later (32-bit version of Java is not supported)
vRA service account
IaaS Server Prep
the vRA service account to the IaaS server's local administrators group.
Select Local Security Policy under Tools from the Server Manager.
Expand Local Policies and select User Rights Assignment.
Add the vRA service account to the following policies:
Log on as a batch job
Log on as a service
Open Component Services, Start –> run –> dcomcnfg or Start –> Administrative Tools –
Component Services.
Expand Component Services –> Computers –> My Computer –> Distributed Transaction Coordinator (MSDTC).
IV. Deploy VRA(VCAC) In Vsphere:
VMware vCAC-AKA VRA  
 IV. vRealize Business 6.1
IT Business Management
Align IT spending with business priorities by getting full transparency of infrastructure and application cost and service quality.
Integrated model imports cost and usage metering from out-of-box integration with VMware solution, as well as from physical, virtual and cloud resources to provide unparalleled service cost visibility.
Cost visibility automates infrastructure and application blueprint pricing for complete user visibility in the self-service portal.
Benchmarking compares the service delivery cost across multiple public cloud services, as well as benchmarks against a population of other IT organizations.
Usage Metering uses comprehensive cost models of IT services for use in dashboards, reports, and "bill of IT".
Vendor Management sets, tracks, reports and analyzes IT performance and value measures for all services and vendors, enabling IT to proactively govern contractual commitments.
Install vRealize Business.
vRealize Automation Orchestrator-All About.
What is vRealize Automation Orchestrator?
Using an automation tool such as vRealize Orchestrator can help a busy vSphere administrator deal with the increased complexity of the virtual environment.
VMware vRealize Orchestrator is an automation and management engine that helps you to automate your cloud and integrate the VMware vCloud Suite with the rest of your management systems.
vRealize Orchestrator allows administrators and architects to develop complex automation tasks by using the workflow designer, and then quickly access and run workflows directly from vSphere Web Client or by various triggering mechanisms.
vRealize Orchestrator can access and control external technologies and applications by using vRealize Orchestrator plug-in:
vRealize Orchestrator Plug-Ins
Vealize Orchestrator plug-ins are solutions developed using vRealize Orchestrator Plug-In Software Development Kit to automate your cloud and integrate the VMware vCloud Suite with the rest of your management systems without scheduled downtime. Workflow Packages are developed using Orchestrator client in vRealize Orchestrator. Workflows achieve step-by-step process automation for greater flexibility in automated server provisioning and operational tasks across VMware and third-party applications. You can download vRealize Orchestrator Plug-Ins and workflows from VMware Solution Exchange.
vRO.Workflow
1. Log in to the vRO client.

2. Ensure that you're in the vRO Design Mode by selecting the Workflows tab.
3. Create a folder to store your workflows by choosing add folder
4. Right-click the folder and choose New workflow.
5. Name your workflow (e.g., Create Change Request).
You'll automatically be taken into edit mode by creating your first workflow. To manually enter or exit edit mode, click on the pencil icon in the vRO window.
6. Drag and drop schema elements and label them.
7. Use the schema editor to make changes on the schema elements and provide a description of the element.
8. Click on the scripting tab to optionally add your own code (e.g., javascript to "Create Change Request"). If your script displays green text, it's been correctly added. It will read similar to this:
System.log ("Create Change Request!");
Server.log ("Create Change Request!");
9. Click the close button.
10. Click save and close.
11. Click continue anyway.
12. Click your validate button to validate the workflow. You're now out of edit mode.
13. Your workflow is now complete. Make sure that you check the general tab to see the results of the workflow.
If your workflow successfully completed, you'll have useable workflow, like the one shown in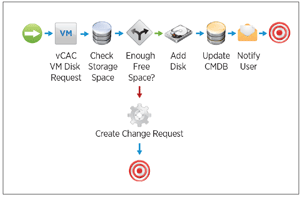 vRO also provides out-of-the-box workflows with pre-configured plug-in solutions. The plug-in solutions range from automating VMware Site Recovery Manager and vCloud Automation Center management, to typical end-user operations. The plug-in solutions include third-party vendors such as Cisco, Hitachi, HP, NetApp and Infoblox.
References:
vRealize Orchestrator
http://pubs.vmware.com/vra-62/index.jsp#com.vmware.vra.asd.doc/GUID-0F80EC6A-EEB4-4D7B-ABC2-B8597FA318BE.html
vRealize Orchestrator Integration in vRealize Automation
http://pubs.vmware.com/vra-62/index.jsp?topic=%2Fcom.vmware.vra.asd.doc%2FGUID-F95DBE51-9444-4989-A28B-F5DDDFA2BF80.html
vRealize Orchestrator Plug-Ins
https://www.vmware.com/support/pubs/vco_plugins_pubs.html
vRealize Business 
https://www.vmware.com/products/vrealize-suite/features