vRealize Automation Orchestrator-All About.
What is vRealize Automation Orchestrator?
Using an automation tool such as vRealize Orchestrator can help a busy vSphere administrator deal with the increased complexity of the virtual environment.
VMware vRealize Orchestrator is an automation and management engine that helps you to automate your cloud and integrate the VMware vCloud Suite with the rest of your management systems.
vRealize Orchestrator allows administrators and architects to develop complex automation tasks by using the workflow designer, and then quickly access and run workflows directly from vSphere Web Client or by various triggering mechanisms.
vRealize Orchestrator can access and control external technologies and applications by using vRealize Orchestrator plug-in:
vRealize Orchestrator Plug-Ins
Vealize Orchestrator plug-ins are solutions developed using vRealize Orchestrator Plug-In Software Development Kit to automate your cloud and integrate the VMware vCloud Suite with the rest of your management systems without scheduled downtime. Workflow Packages are developed using Orchestrator client in vRealize Orchestrator. Workflows achieve step-by-step process automation for greater flexibility in automated server provisioning and operational tasks across VMware and third-party applications. You can download vRealize Orchestrator Plug-Ins and workflows from VMware Solution Exchange.
vRO.Workflow
1. Log in to the vRO client.

2. Ensure that you're in the vRO Design Mode by selecting the Workflows tab.
3. Create a folder to store your workflows by choosing add folder
4. Right-click the folder and choose New workflow.
5. Name your workflow (e.g., Create Change Request).
You'll automatically be taken into edit mode by creating your first workflow. To manually enter or exit edit mode, click on the pencil icon in the vRO window.
6. Drag and drop schema elements and label them.
7. Use the schema editor to make changes on the schema elements and provide a description of the element.
8. Click on the scripting tab to optionally add your own code (e.g., javascript to "Create Change Request"). If your script displays green text, it's been correctly added. It will read similar to this:
System.log ("Create Change Request!");
Server.log ("Create Change Request!");
9. Click the close button.
10. Click save and close.
11. Click continue anyway.
12. Click your validate button to validate the workflow. You're now out of edit mode.
13. Your workflow is now complete. Make sure that you check the general tab to see the results of the workflow.
If your workflow successfully completed, you'll have useable workflow, like the one shown in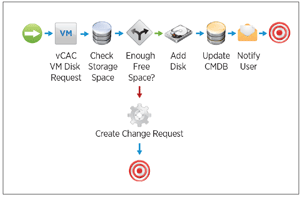 The vRealize Orchestrator workflow visualizer
vRO also provides out-of-the-box workflows with pre-configured plug-in solutions. The plug-in solutions range from automating VMware Site Recovery Manager and vCloud Automation Center management, to typical end-user operations. The plug-in solutions include third-party vendors such as Cisco, Hitachi, HP, NetApp and Infoblox.
References:
vRealize Orchestrator
http://pubs.vmware.com/vra-62/index.jsp#com.vmware.vra.asd.doc/GUID-0F80EC6A-EEB4-4D7B-ABC2-B8597FA318BE.html
vRealize Orchestrator Integration in vRealize Automation
http://pubs.vmware.com/vra-62/index.jsp?topic=%2Fcom.vmware.vra.asd.doc%2FGUID-F95DBE51-9444-4989-A28B-F5DDDFA2BF80.html
vRealize Orchestrator Plug-Ins
https://www.vmware.com/support/pubs/vco_plugins_pubs.html