What is vRealize Automation ?
Organizations can use VMware vRealize ™ Automation to deliver services to their lines of business.
vRealize Automation provides a secure portal where authorized administrators, developers or business users can request new IT services and manage specific cloud and IT resources, while ensuring compliance with business policies. Requests for IT service, including infrastructure, applications, desktops, and many others, are processed through a common service catalog to provide a consistent user experience.
You can improve cost control by using vRealize Automation to monitor resource and capacity usage. For further cost control management, you can integrate vRealize Business Advanced or Enterprise Edition with your vRealize Automation instance to expose the cost of cloud and virtual machine resources, and help you better manage capacity, cost, and efficiency
Enhanced Cloud Support for vCloud Air and AWS
•Software component authoring for vCloud Air, vCloud Director, and Amazon AWS
•Simplified blueprint authoring for vCloud Air and vCloud Director
•Improved vCloud Air endpoint configuration:
•First class endpoint with URL: https://vca.vmware.com
•Single endpoint for all resources under the same account (subscription or on-demand)
•Optional proxy configuration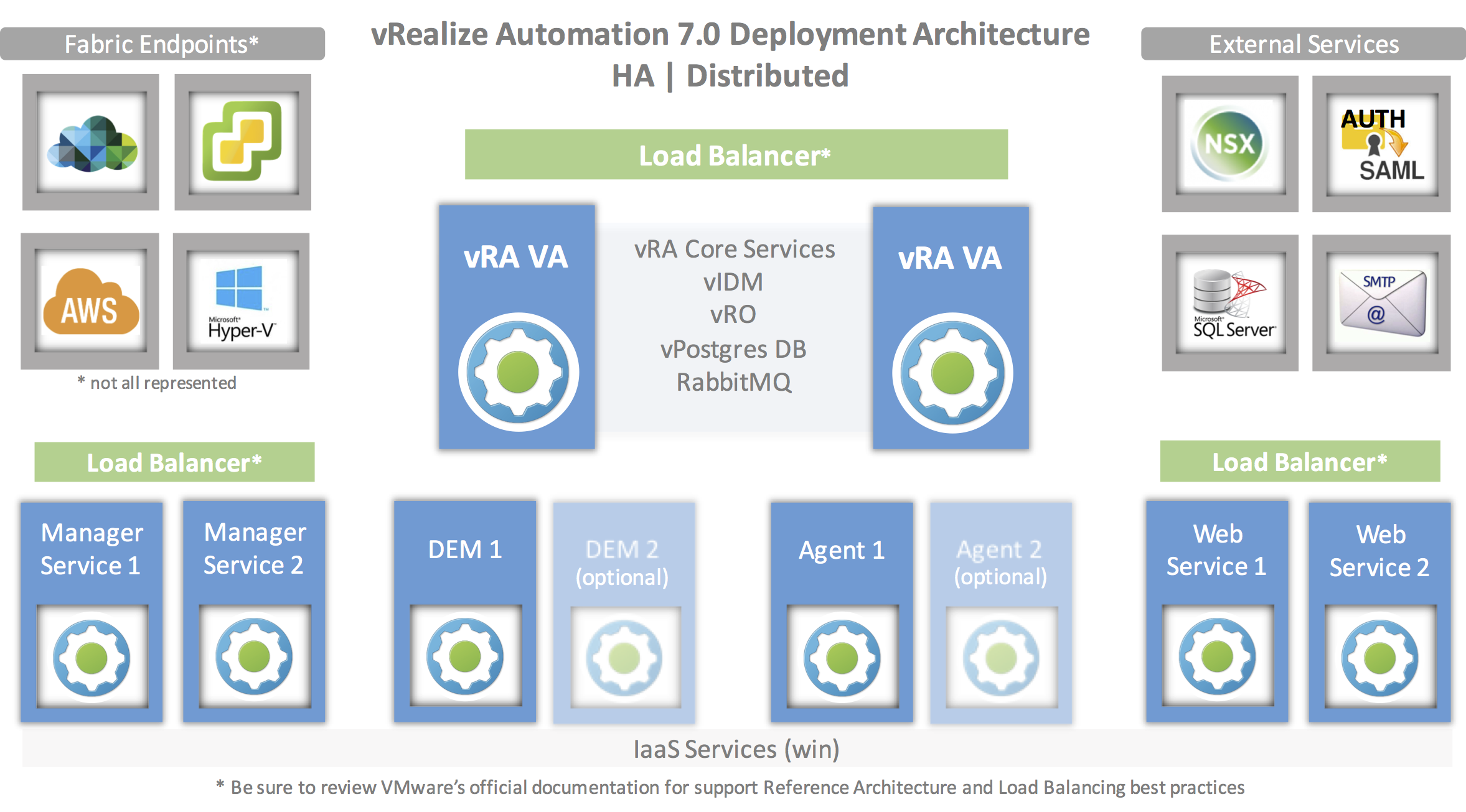 Enhanced Management for Tenant, Business Group, Approval, and Entitlements
•Multi-tenancy support for custom property and property group (formerly build profiles)
•Business group managers can add managers, support roles, or users to their groups
•Assign approvals to software and machine components, which will be assessed when the catalog item is requested
•Dynamically assign approvals to the manager of the user
•Deletion of inactive approvals
•Entitlements can be more specific on catalog item and their actions
Event-Based Extensibility Provided by Event Broker
•Use vRealize Orchestrator workflows to subscribe any events triggered by any of the following events:
•IaaS life cycle state and entity changes
•Business groups management operations
•Approval policy and pre- or post-approval actions
•Blueprint operations
•Other system operations
•Support custom events
•Support blocking and non-blocking subscriptions
•Provide administrative user interface for extensibility configurations
•Obsolete .NET based lifecycle callouts and provide upgrade proof extensibility and configurations
New CloudClient
•Content management (import and export blueprints between instances or tenants in vRealize Automation 7.0)
•Existing functionality updated for vRealize Automation 7.0 APIs
Enhanced Integration with vRealize Business
•Unified location in vRealize Business to define flexible pricing policies for:
•Infrastructure resource, machine, and application blueprints
•All type of endpoints in vRealize Automation
•Any operational cost, one time cost and cost on custom properties
•Role-based showback reports in vRealize Business
•Fully leverage new features in vRealize Business
vRealize Orchestrator 7 New Features
•Introduce vRealize Orchestrator Control Center for easy monitoring and troubleshooting
•Centralized Server administration and easy cluster setup
•Workflow troubleshooting and enhanced log monitoring
•Significant Smart Client improvements including Workflow tagging UI, Client reconnect options and enhanced search capabilities
•vSphere 6.X vAPI endpoint support providing graphical debugging of plug-ins and embedded Code development support
Other Improvements
•Customizable columns in the table for a given type of custom resource defined in XaaS
•Accept a mix of license input, including vRealize Suite, vCloud Suite, and vRealize Automation Standalone
•Improved stability, quality, and performance
Overview The following is an overview of current compatibility between the offerings of the VMware vRealize Automation. Information for unreleased products is subject to change
This information center describes how to install, configure, and leverage VMware vRealize Automation features to meet your business needs.
New vRealize Automation features and innovations required several platform-level enhancements. As a result, certain upgrade scenarios will require additional assistance. To ensure the best possible upgrade experience, it is recommended that you visit the vRealize Automation Upgrade Assistance webpage before you begin the upgrade process.
vRealize Automation 7.1 Release -Build 4270058
What is new in VRA 7.1 
The vRealize Automation 7.1 release includes resolved issues and the following changes.
•Streamlined installation process using a silent installer.
•Agent and prerequisite command line interface.
•Migration tool to move data from a source vRealize Automation 6.2.x environment to a fresh vRealize Automation 7.1 environment while preserving the source environment.
•IPAM integration framework with ability to deploy machines and applications with automated assignment of IP addresses from leading IP address management systems, with the first integration with Infoblox.
•Integrated support for Active Directory policies.
•Custom property dictionary controls to improve property definitions and vRealize Orchestrator actions.
•Reconfigure life-cycle events by means of event broker workflow subscriptions.
•Additional vSphere provisioning options and data collection improvements.
•Ability to manually conduct horizontal scale in and scale out of application environments deployed by vRealize Automation, including the automatic update of dependent components.
•Customizable message of the day portlet available on the home page.
•Additional information and filter options on the Items page.
•Discontinued support for PostgreSQL external database.
Systems Requirements
Operating Systems, Databases, and Web Servers Supported Requirements.
https://www.vmware.com/support/pubs/vrealize-automation-71-support-matrix.pdf
Installation
In this demonstration we will only review and perform – VRA 7.X –Deploy a proof of concept (PoC) or development environment with a basic topology.
Depending on your deployment requirements, you can install and configure vRealize Automation components by using the rainpole installation scenario, the Installation Wizard, or through the management console.
Choose a minimal installation to deploy a proof of concept (PoC) or development environment with a basic topology. Choose an enterprise installation to deploy a production environment with the topology best suited to your organizational needs.
Prerequisite Installation Steps.
Host Names and IP Addresses
Hardware and Virtual Machine Requirements
Browser Considerations
Password Considerations
Windows Server Requirements
vRealize Automation Port Requirements
User Accounts and Credentials Required for Installation
Security
Time Synchronization
Reference.
VRA 7 Version Release Notes reference.
https://docs.vmware.com/en/vRealize-Automation/index.htmlhttp://pubs.vmware.com/Release_Notes/en/vra/vrealize-automation-71-release-notes.html
VRA 7.X Version 
VRA 7 Support Matrix
https://www.vmware.com/pdf/vrealize-automation-70-support-matrix.pdf
Deployment Image Methods Support
Guest OS Versions:
VRA 7 Infra Support Matrix
I. Express Installation Steps
VMware vRealize Automation 7–vRA7–Performing a
"Express Minimal deployment" Installation
Prerequisites Requirements:
◾A IAAS Management  Server running on a supported version of Windows Server- 2008 or 2012,
*in this demo will use Windows 2012 R2.
◾Configure NTP Time sync on windows server.
◾A Microsoft SQL server for the IaaS database. For example, Windows 2012 MS SQL server.
◾Configure the MS SQL server with the proper MSDTC security settings.
To prepare for installation of the vRealize Automation Center server virtual machine you must first build a Windows Server with the following Prerequisites.

Verify that the virtual machine is configured with the following hardware and software:
2 vCPUs or more.
4GB RAM or more.
30GB disk space or more. VMware recommends creating a separate partition for use by the virtual machine.
Windows Server 2012 R2 virtual machine, with the most current updates.
Static IP address.
Verify that the vRealize Automation Center Server is joined to a domain.
Create a domain user account (for example, vrasrvacc) in Active Directory.
Log in to the vRealize Automation Center Server as administrator.

Add the vrasrvacc account to the local administrators group.

Installation Prerequisites of vRealize Automation Center Database Server
To verify the prerequisites for installation of vRealize Automation Center database server

Log in to the Microsoft SQL server with local administrator privileges.

Configure MSDTC and start the service if it is not already running, as follows:

Open Component Services from Administrative Tools.
Expand Component Services > Computers > My Computer > Distributed Transaction Coordinator.
Right-click Local DTC and select Properties.
Click the Security tab.
Select Network DTC Access.
Select Allow Remote Clients.
Select Allow Inbound and Allows Outbound.

Select Mutual Authentication Required.

Click Apply
In the warning message dialog box stating that the MSDTC service will be stopped and restarted, click Yes.
Click OK in the MSDTC service has been restarted dialog box.

Configure the database TCP/IP protocol as follows:

For Sql 2008: Click Start > Microsoft SQL Server 2008 R2.
For SQL 2012: Start > Microsoft SQL Server 2012
Click Configuration Tools.
Open SQL Server Configuration Manager.
Select SQL Server Network Configuration.

Select Protocols for MSSQLSERVER.

Right-click TCP/IP and select Enable (if it is not already enabled).
Close SQL Server Configuration Manager.

Configure the database credentials as follows:

Open SQL Server Management Studio.
On the Connect to Server screen, type the SQL Administrator credentials and click Connect.

Add the vrasrvacc account to the logins.

Security > Logins

Right click on Logins and choose New Login
Select Windows Authentication and click on Search to search for Service account
Make sure to change the Locations to the domain and click on OK

Add the vrasrvacc account to the sysadmin role so that it can create the database and alter its size.

Click on Server Roles
Check Sysadmin and click on OK

If you are using SQL Server Express, set the SQL Server Browsing service to automatic, and start it.
Make sure to turn off all firewall settings on the SQL server
◾DNS entry for VRA Full Quailfy Domain Name. I.E
1.Download VRA 7 OVA file from VMware Download

2.Deploy OVF Template from a share or URL location=Click Next.
3.  End User License Agreement- Click Accept and Next.

4. Input Name of  VRA Appliance and Location to deploy to.
For example, name will be VRA7 and Inventory Location. PDX- Datacenter location.
5. Host and Cluster- For example, PDX datacenter and IAAS Cluster -Click Next.
6. Select Datastore location to deploy VRA 7 to.
7. Select Disk Format- Click Next.
-think provision(for this installation demo)
5.Set VRA Configuration*initial root password •If we want SSH access
•The Hostname
•Default Gateway
•DNS name
•IP details…..

6.Summary of Configuration-confirm your configuration.
Keep default- Power on after deployment.  -Click Finish
If you need to change any of the configuration, just click back.
7. VRA 7 Progress screen- % completion status.
*Recent Tasks Status

II. Configuration and Setup Steps
A. VRA Appliance Pre-Installation 
*Post of VRA 7 deployment Appliance(previous steps-deploying VRA Applicance)
1.Open Web Browser and Navigate to the https://<IP address of VRA 7 appliance>:Port number 5480, For example: https://192.168.2.34:5480
2.login as user "root" with the password you set during the appliance deployment.
2.Once you login a new window open and select -next" to begin configuration.
3. Scroll Down  and  lick Check Box – Accept the End User License Agreement and select "Next".
4.  Choice Installation Model- "Minimal Installation Option: Specific for For Proof Of Concept.)
By default the check box.-Install Infrastructure as a Service -and Click Next. 
*Enterprise Installation Option is for Production – HA and Distributed Landscape*
5. Next Screen will provide instruction –
Installation Prerequisites
Before proceeding with the installation, make sure that you have set up the IaaS hosts to use in your installation. The Discovered Hosts table tells you which hosts are configured for vRealize Automation.
6. Download IAAS Management Agent to be install on IAAS Windows Server. For example, in the prerequisite requirements section had mentioned , a IAAS Managment server running on a support Windows Server.
Click on download link and download IAAS Management Agent to IAAS Management Server host.
For example copy vCAC-IaaSManagementAgent-Setup file to a network share or directly to IAAS Management Windows Server Host.
7. Install IAAS Management Agent on IAAS Management Windows Server. 
*Before starting installation IAAS Management Agent. make sure to setup server to use NTP time services on the server. 
a. Launch the "vCAC-IaaSManagementAgent-Setup" file on your server. 
b. Click Next to begin IAAS Management Agent Installation. 
c. Click Check Box To Accept EUL- End User License Agreement and Next.
d. Keep Destination Folder as Default "C:\Program Files (x86)\VMware\vCAC\Management Agent\" and Click Next. 
e. Input the FQDN VRA 7 Applicance URL.. https://vra address : port number 5480.
(*please note the load of the Management Site Service Certificate SHA1 Fingerprint will failed.) 
VRA Applicance Address:
https://vra7.mvp.local:5480
Root Username
Root
Password
xxxxxxx
Click on Load pull down Management Site Service Certificate SHA1 FingerPrint.
Once all values populated. The next bottom will be available. -Click Next. 
f. The screen input domain account has IAAS Management administrative rights permissions – I.E.
Domain\account and Click Next.
g. You will see IAAS Managment Agent Installation Status .

h. The VRA Management Agent installation complete- Click Finish.
This should complete VRA Management Agent.
i. Go back to VRA Applicance  https://vra FQDN or IP Address : Port 5480.
https://vr7.mvp.local:5480 – Log in as Root user ID.
To validate VRA Application can see the newly VRA Management Agent installation on IAAS Management Server.
Once log into th eVRA Applicance –go to Cluster Tab to view if newly VRA Management Agent is available. For example, as you see the MVP-IAAS.MVP.LOCAL machine FQDN.  
SSH  into the VRA7 to vRA 7.0 Reinitiate Installation Wizard
1.Change directory to the  /usr/sbin/
2. Run the follow command to start the Installation-Wizard Activate.
./vcac-vami installation-wizard activate
3. Type yes with prompt -Are you sure?
Below is an example of the ssh session into VRA 7.
B. Log back into the VRA7 Appliance to initiate Installation Wizard. This process will ensure the abilities to validate all VRA prerequisite requirements.
C.Click Next to iniitate VRA7 Installation Prerequisites
D. You will see if newly IAAS management is showing under Discovered Host per IAAS Agent Installation section above.-Click Next.
E. vRealize Automation Host. Keep Default – Resolve Automatically.
F. SSO Configuration -Input the Administrator and Click Next.
G. Input DNS alias or FQDN of the IAAS Web Server and Click Next.
Below are the values need to be set.
Keep default – Install IaaS Components on -Auto populate with IAAS host name.
Input Username- Domain\userid
Password:xxxxxx
Database Security Passphrase.xxxxx
H. MS SQL Server- Create or Use Existing -and Click Next. 
Input the follow values:
Server Name::(MS SQL Server Host Name)
Database name:<VRA default name or create your own>
Checkbox- Default settings
Checkbox-Windows Authentications.
the database name and the authentication type to be used.  Please also note that if you haven't already you need to make sure that the MSDTC configuration on the SQL server is properly configured under Component Services –> Distributed Transaction Coordinator.  When finished select "Next" to continue.  (Note you can also use the validate button to validate the configuration at this point.)
J, Distributed Execution Managers- Configuration-
*should see the IAAS Host: mvp  Instance Name: DEM, Username, Password,Instance Description, and Installation Path.
K. Agent Configuration- Deployment agents to IAAS Management System Endpoints -Vcenter.- and Click Next.
*You should see  above value auto populated.
L. vRA Certificate Configuration. There are a couple options to configure certificate create or generate self signed certificates. Below demo- Generate Certificate –
Input the required Certificate Value, and Click Save Generate Certificate.–>Click Next.
Common Name:  VRA7 Host name reference.
Organization: i. e.MVP
Organization Unit: i.e VMS
Country Code: US
*serial, Fingerprint, validate since valid to will populated..
N. Web Certificate. This certificate is for Action Menu.
Input the required or Select Use Existing Certificate Value and Click Save Generate Certificate–>Click Next.
Common Name:  VRA7 Host name reference.
Organization: i. e.MVP
Organization Unit: i.e VMS
M. Manager Service Certificate, The previous certificate will be used for the Manager Service Certificate,
O. Validation – The validation process will take about 10 to 30 minutes. Click Validate to trigger the validation.
Validation Successful. Click Next.
Create  Snapshot of VRA Appliance. 
Installation Details -Step – Click Install.
Retry Failed* button allows retrying of single or multiple failed commands. Depending on reason for failure some commands could not be retried.If retry failed is enabled you can retry the failed command without the need to revert to snapshots.
Retry All IaaS* button retries all installation commands for IaaS components only. All IaaS servers must be reverted to the snapshots created on the snapshot page before the installation is retried. The Microsoft® SQL database needs to be deleted if you are using an external SQL server.
The installation process can take between 30 minutes and two hours. Click Install to trigger the installation.
*Once the Validation completed – Click Next.